S1E22 - The Iron Man Wrestling Podcast - Episode 22
Episode 22 of the Iron Man Wrestling Podcast
6 years ago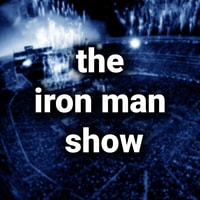 Welcome back for episode 22 of The Iron Man Show - A Wrestling Podcast. On this week's show:
Summerslam 2016 and NXT Takeover Brooklyn II
The Fallen Angel catches up on WWE's Summerslam weekend and provides his thoughts on both shows. That is, when The Real Deal isn't going off tangent.
This week's news includes Finn Balor's injury; The Dudley Boyz retiring (or have they?!); Vin Diesel and The Rock having fisticuffs; and Eric Young signing with NXT.
Old Man Joey completes his recap of the 2012 Summerslam PPV.
The first episode of this reality TV series is discussed. Was it worth watching? Will we go back and watch more?
Botch To Broadway - Summerslam 2002
We run through the card for Summerslam 2002. Was it a botch or was it broadway?
Main Event Jobber - Summerslam 1992
The actual main event at this Wembley show was The British Bulldog vs Bret "Hitman" Hart. We didn't cover this one, because it was quite good. Instead we looked at the WWF Championship match between reigning champion "Macho Man" Randy Savage and challenger The Ultimate Warrior. Let the battle of the leotards commence!
Overrated or Underrated - The British Bulldog
We wrap up with a look at the career of The British Bulldog and decide if he had the push he deserved, or if there could have been more for him to do.
Randomly, we also have a quick chat about Brock Lesnar F5'ing horses.
If you like what we're doing (and why wouldn't you?), please leave us a five star review on iTunes or wherever you're downloading this from. Alternatively, you can find and download our episodes from any of these places (Search for "iron man wrestling"):
Deezer Stitcher Pocket Casts
If you want to contact us (such as asking for a particular show or event to be covered), you can send an email to [email protected] or find us on Twitter - @ironmanpodcast, @hugegreenburger (Simon), @thesimonprior (Simon again) or @randomstoat.