S1E30 - The Iron Man Wrestling Podcast – Episode 30
Episode 30 of the Iron Man Wrestling Podcast.
6 years ago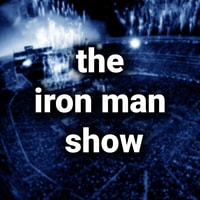 Episode 30 of the Iron Man Wrestling Podcast kicks off in fine style. The Real Deal, Fallen Angel and Old Man Joey talk about wrestling and stuff. Meanwhile, David Otunga is ignored.
From Goldberg to Frenchie Martin to Daniel Bryan's depression. It's all in here!
Preview - WWE Hell in a Cell 2016
We have a quick look at the forthcoming Hell in a Cell PPV.
Wrestling Memories - UK Rampage 1992
To celebrate our forthcoming visit to Smackdown Live this November, The Real Deal remembers attending UK Rampage 1992 in Birmingham, his first and, to date, only professional wrestling event.
Intercontinental Title Tournament - Final
We (finally) reach the end of our quest to find the ultimate Intercontinental Champion.
Wrestling Memories - WWF Rebellion 1999
It's Fallen Angel's turn to recall his first wrestling event, which he attended at the end of 1999.
This week, and wrapping up the episode, we wonder if Zack Ryder is overrated or underrated? Check us out.
If you like what we're doing (and why wouldn't you?), please leave us a five star review on iTunes or wherever this podcast is available. Alternatively, you can find and download our episodes from any of these places (Search for "iron man wrestling"):
Deezer Stitcher Pocket Casts
If you want to contact us, send an email to [email protected] or find us on Twitter - @ironmanpodcast and @thesimonprior.