S1E38 - The Iron Man Wrestling Podcast – Episode 38
Episode 38 of the Iron Man Wrestling Podcast.
6 years ago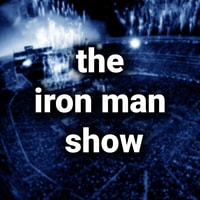 It's the Iron Man Wrestling Podcast's go-home show for the year as we wrap up as best we can before our special End of Year Awards show next week. On this episode:
WWE have introduced a UK title, with plans to launch a regional, weekly show. Good news for us UK fans
ITV's World of Sport is set to debut soon. Interesting timing on WWE's part, don't you think?
And finally - Scott Hall's Christmas Tree. Go see his Twitter feed. And what is on his television.
In our fantasy match for the ages, it's Eva Marie vs Nikki "Nikolai" Bella vs Brie Bella vs Dana Brooke. Electrifying.
Two rounds this week. If we were professional wrestlers (and it was all real), who would we choose to manage us?
Bobby Heenan or "The Mouth of the South" Jimmy Hart Mr Perfect (circa 1992) or Ric Flair (circa Evolution)
We review the latest PPV event (at the time of recording).
Roadblock: End of the Line 2016 preview
This was recorded before Roadblock, so we take a look at the event card.
If you like what we're doing (of course you do - you're listening to episode 38!), please leave us a five star review on iTunes or wherever this podcast is available. Alternatively, you can find and download our episodes from any of these places (Search for "iron man wrestling"):
Deezer Stitcher Pocket Casts
If you want to contact us, send an email to [email protected] or find us on Twitter - @ironmanpodcast and @thesimonprior.