S1E27 - The Iron Man Wrestling Podcast – Episode 27
Episode 27 of the Iron Man Wrestling Podcast.
6 years ago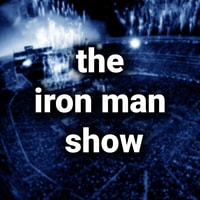 Welcome to another exciting episode of the Iron Man Wrestling Podcast. Join The Real Deal, The Fallen Angel and Old Man Joey as they wibble on for an hour about the following:
The possible closure/buyout of TNA; the Dusty Rhodes Tag Team Classic (and it is GLORIOUS!); Raw's ratings; Ashton Kutcher on Raw; Ryback's MMA plans.
WWE Clash of Champions Recap
Reviewing each match, the card and the overall quality of the event. Let the Battle of the Beards commence!
A look at the matches for the next WWE PPV. They're coming thick and fast now that the brand split has happened! It's quite exhausting.
We're almost at the end of our fantasy Intercontinental Title Tournament. The final 8 battle it out for a place in the semi-finals.
Fatally Flawed Way - The Four Faces of Foley
The Real Deal sets Old Man Joey and Fallen Angel the task of choosing which of Mick Foley's personalities would win in a fight.
Randoms - Ultimate Factions and Stables
This is not the ultimate faction you were looking for. Fancy a group called The Barbershop Quartet? Brutus Beefcake is the starting point for the creation of a new stable.
If you like what we're doing (and why wouldn't you?), please leave us a five star review on iTunes or wherever this podcast is available. Alternatively, you can find and download our episodes from any of these places (Search for "iron man wrestling"):
Deezer Stitcher Pocket Casts
If you want to contact us, send an email to [email protected] or find us on Twitter - @ironmanpodcast and @thesimonprior (Simon).